Donate for a New NUSTEP
Gathering Strength is raising funds to purchase a new Nustep recumbent cross trainer for the Community Fitness and Wellness (CFW) gym in Louisville, Kentucky.

The goal is to raise $8,000 by May 31, 2023 to replace a 15-year-old Nustep with a new T6MAX Nustep.
Online Fundraiser
For Frazier Rehab's Community Fitness and Wellness Gym. 
Gathering Strength is a 501(c)(3) tax-exempt, nonprofit corporation and a long-time supporter of Frazier Rehab's Community Fitness and Wellness (CFW) gym because it is the only totally accessible gym in Louisville, Ky with a wide variety of wheelchair-accessible equipment.
See Gathering Strength's proof of tax-exempt status at the bottom of this page, or consult GuideStar, which lists every nonprofit registered with the IRS. Gathering Strength has received the Gold Seal of Transparency.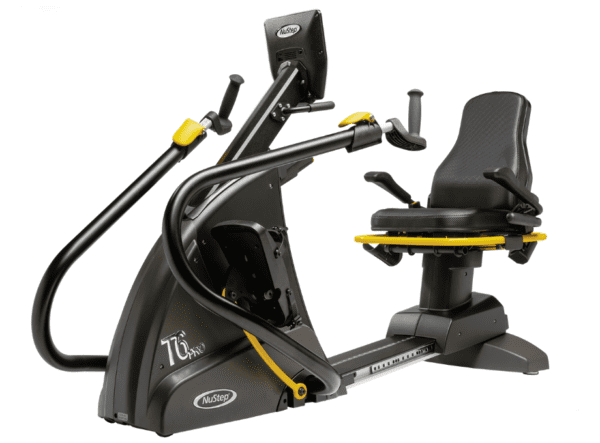 Online Fundraiser
Frazier Rehab's Community Fitness and Wellness Gym needs a new Nustep.
Adults with disabilities are three times more likely than their able-bodied peers to have cardiovascular disease, stroke, and diabetes.
Exercise is proven to reduce the risks of these conditions.
The NuStep is a specialized, accessible recumbent
stepper for cardiovascular exercise utilizing the legs and
arms separately or together.
Accessories like leg stabilizers and gripping aids allow
people with paralysis to effectively use the Nustep.
The CFW's Nusteps are 15 years old and in disrepair.
Chris, Jerry, Patricia (pictured above), and so many other CFW gym members with disabilities like stroke and SCI rely on the
Nustep to exercise and improve their health.
GATHERING STRENGTH, INC,
2721 Shippen Ave,
Louisville, KY 40206.
We are very grateful for your support.