Health + Advocacy + Inclusion
Gathering Strength for Living Your Best Life
Health + Advocacy + Inclusion
Gathering Strength for Living Your Best Life
Our mission is to empower people with physically disabling conditions by ensuring equitable access to
community resources and spaces, technology, and better health.
Donate for a New NUSTEP
Gathering Strength is raising funds to purchase a new Nustep recumbent cross trainer for Frazier Rehab's Community Fitness and Wellness (CFW) gym, which is the only totally accessible gym in Louisville for people with disabilities.
Online Fundraiser Goal:
$8,000 by March 31, 2023 for a Nustep T6MAX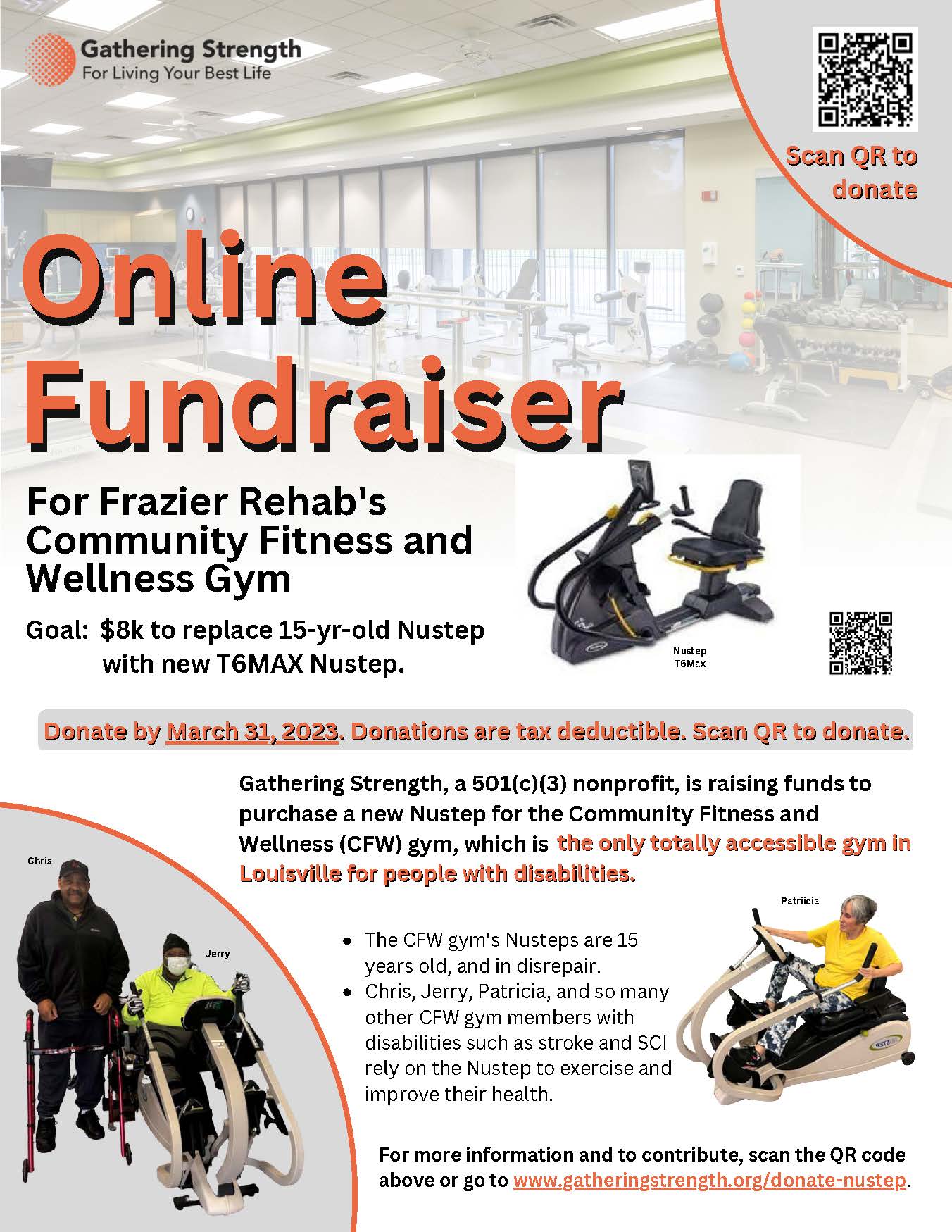 Gathering Strength believes that equitable access to health and wellness resources is a social justice issue.  Accessible, health-promoting physical activity is vital for people with disabilities to improve and maintain their health for a lifetime.
Community Fitness & Wellness Gym 
Gathering Strength partners with Frazier Rehab Institute in Louisville, Kentucky to support the Community Fitness and Wellness (CFW) gym. CFW is the only fully accessible gym, specifically for people with disabling conditions in the region.
On-Line Health & Wellness Classes
Gathering Strength offers a wide variety of online health and wellness classes including adapted cardiovascular and strength training, stress reduction, yoga, as well as online educational events. Recordings of past classes are available.
Helpful Resources
Click the button below to find a list of helpful Resources to Support People with Disabilities and Their Families.
The resources include some helpful advice, interesting research, and practical guidelines on maintaining and improving fitness and wellness while living with a disabling condition, such as spinal cord injury or stroke.


Inclusive Digital Access Pilot Project
Gathering Strength is conducting a pilot project that provides a hotspot, a laptop, and assistive technology to people with disabilities who live on low incomes.
The goal is to find practical ways to increase inclusion, decrease isolation, and improve health & wellness for participants by lowering barriers to internet access so they can participate in Gathering Strength's health & wellness activities and other vital online community resources.
Resources for SCI Survivors of Violence
Gathering Strength is collaborating with Pushing forward, a Louisville nonprofit, to provide assistance to newly injured spinal cord injury survivors of violence.
The goal of this project is to make the transition to home easier by assisting with wheelchair storage needs, bathing needs, and minor home modifications to improve independence and accessibility.
For more information email: kiara@pushingforwardinc.org
For the good of the community and the individual with a disability, community spaces must be inclusive. One barrier to inclusion is the lack of accessible parking. The public remains uninformed about the need to keep accessible parking spaces available for people with disabilities, and accessible parking laws are inadequately thorough and inadequately enforced. Gathering Strength seeks to improve state and local parking laws, better educate the public, and organize support for both endeavors
The Americans with Disabilities Act (ADA) entitles people with disabilities to full and equal access to healthcare services. Healthcare providers should have accessible offices and exam rooms, accessible exam and diagnostic equipment, and should provide reasonable assistance to enable patients to receive medical care. Gathering Strength works to make these vital community resources accessible.