About Gathering Strength
We see diversity, inclusion, and equity as integral to our vision and mission.
About Gathering Strength
Gathering Strength, Inc., is a 501(c)(3) tax-exempt nonprofit corporation located in Louisville, Kentucky.
Diversity, Equity, and Inclusion Policy:
Gathering Strength, Inc. (GS), sees diversity, inclusion, and equity as integral to our vision and mission.
Our commitment to diversity encompasses, but is not limited to race, age, sex, gender identity/expression, sexual orientation, national origin, economic background/circumstances, physically or mentally disabling condition, veteran status, regional differences, marital or parental status, immigration status, philosophy/religion. We will assess and update this list annually to ensure it is inclusive and reflects the community we serve.
Gathering Strength, Inc., (GS) is committed to equitable treatment, elimination of discrimination in all its forms, and diversity at all organizational levels and throughout all of its programs.
GS, and its Board of Directors, are committed to individual and organizational efforts to build respect, dignity, fairness, caring, equality, and self-esteem for all people.
We strive to be affirmatively anti-racist in all that we do.
We will endeavor continually to serve underrepresented and underserved constituencies including people who live on low incomes.
We will search for and address inequities in our policies, programs, and services.
We will gather data and document our progress on diversity, equity, and inclusion in our organization and in our programs.
We will dedicate our time and resources to expand diversity within our board and leadership positions, and among the people who conduct work for (or become employed by) GS.
We will challenge systems and policies in our community that diminish diversity, equity, and inclusion.
Elizabeth Fust,
Founder and President
Elizabeth Fust is an attorney in Louisville, Ky. She suffered a spinal cord stroke in 2006 and is a T7 paraplegic.
Since her injury, she has been devoted to raising charitable funds to support spinal cord injury rehabilitation and therapeutic exercise programs in Louisville for people with disabling conditions.
In 2018, she founded Gathering Strength, Inc., a 501(c)(3) tax exempt nonprofit corporation, with the mission to empower people with disabling conditions by assuring equitable access to community resources and spaces, technology, and better health.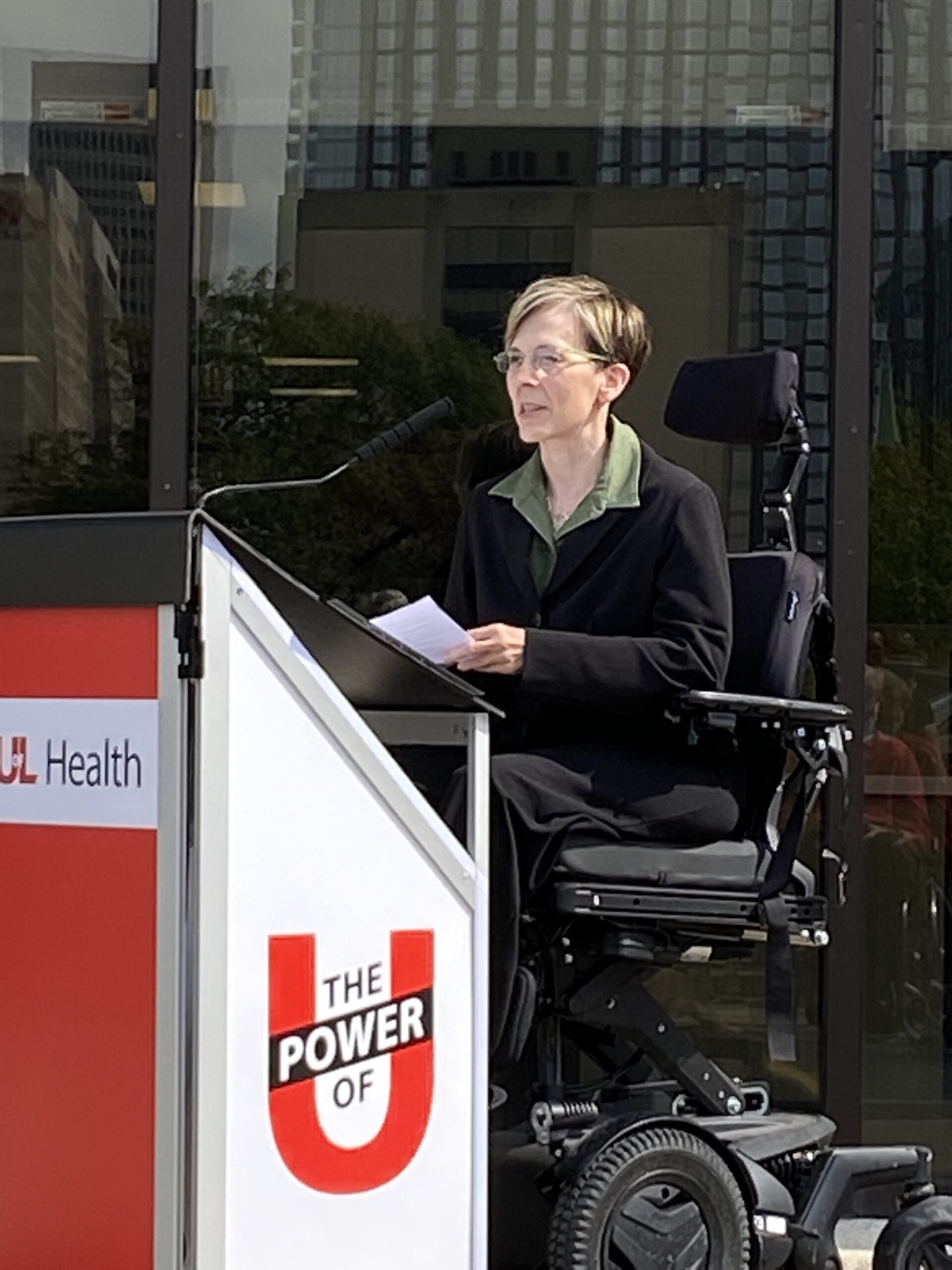 Gathering Strength Board of Directors
Elizabeth Fust – A spinal cord injury survivor and an attorney.
Kathryn Mershon – A stroke survivor and retired Senior Vice President and Chief Nursing Officer at Humana, as well as Board Chairperson of Galen College of Nursing.
Marcellus Mayes – A blind, long-time advocate for people with disabilities in Louisville, and the President of the Metro Disability Coalition.
Jean Russell – Retired Vice President of Development Services at Seven Counties in Louisville, and a former Vice President of Operations at Frazier Rehab Institute.
Abby Drane, C.P.A., M.B.A. – The Chief Executive Officer of Seven Counties in Louisville and the former Chief Financial Officer of Seven Counties.
Leslie Jones – A retired Senior Staff Attorney at the Kentucky Department of Protection and Advocacy, which protects and promotes the rights of people with disabilities.